The ProdOps well operations advisor transforms production operations by enabling asset teams to concentrate their efforts on higher-value tasks, addressing the operational challenges of E&P companies in a streamlined and effective manner. ProdOps combines deep petroleum engineering domain science and digital technologies, with more than 15 years' experience of worldwide digital oilfield (DOF) implementation. Principally, ProdOps reduces the time of operation cycle by:
Producing meaningful insights, which promote quick decision-making and immediate actions
Breaking down domain and software silos across teams through collaborative workflows
Tracking work and activities from inception through escalation, all the way to completion
Enabling the planning and optimization of key activities, ultimately targeting operational excellence.
FROM REACTIVE TO PROACTIVE
ProdOps identifies issues and enhancement opportunities and enables your team to move them to resolution, through collaboration on task assignments, verification, and tracking, up to final closure. It's an advanced application that offers a paradigm shift in well production management and surveillance, moving away from a complex view of interpreted data, to provide engineers with continuous and actionable insights. These valuable insights are based on data driven techniques, first principle models, and historical look back models.
TUNE YOUR WELL PERFORMANCE BY ANALYZING MULTISEGMENTED DATA
With ProdOps, you can rank wells based on your KPIs to understand your overall asset performance and identify underperforming wells. Leverage the DELFI environment for instant access to all information relevant to each well, in context of the insight or well under review, to enhance your decision-making.
STANDARDIZE FORECASTS ACROSS YOUR ORGANIZATION
ProdOps enables you to generate, maintain, and share evergreen pipelines of forecasts in a streamlined manner for use in various workflows and applications.
For increased efficiency and robustness, the ProdOps Production Forecasting application enables user-driven batch forecasting on selected groups of wells, making use of advanced algorithms for automated outlier identification, production profile segmentation, and best-fit decline curve method evaluation. The application supports probabilistic decline curve analysis by means of Markov Chain Monte Carlo methodology, thus enabling users to forecast and estimate reserves under uncertainty. Manual or auto-published forecasts are immediately made available to the ProdOps advisor and to the DELFI environment.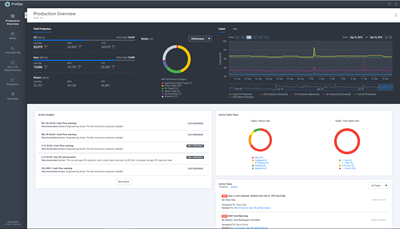 COLLABORATIVE ENVIRONMENT
Accelerate decision-making with the production overview dashboard, which encompasses all your asset variables and information such as well status, KPIs and financial information, resources, opportunities, and current challenges. ProdOps provides timely and relevant flows of data streams to feed advisors. Measurements from real-time sensors can be brought together with processed data from applications, information supplied by third party systems, production reports, and manually collected readings.
The science behind ProdOps is already in use by many operators. Key advantages:
Proactive well management approach to increase well uptime by 20%
Reduce data processing time by 80% and well test update by 90%
Improve gas lift performance by 20-30%
Reduced deferred production by 30%
Improve response time to field upsets by 70%
In ProdOps, live production operations data, first principle physics models, and data analytics are unified into one environment. This single framework provides operators with confidence in the insights and recommendations provided, increasing asset profitability by optimizing CAPEX and OPEX.
ACHIEVE YOUR ASSET'S TRUE POTENTIAL