The ProdOps well operations advisor transforms production operations by enabling asset teams to concentrate their efforts on higher-value tasks, addressing the operational challenges of E&P companies in a streamlined and effective manner. ProdOps combines deep petroleum engineering domain science and digital technologies, with more than 15 years' experience of worldwide digital oilfield (DOF) implementation. Principally, ProdOps reduces the time of operation cycle by:
Producing meaningful insights, which promote quick decision-making and immediate actions
Breaking down domain and software silos across teams through collaborative workflows
Tracking work and activities from inception through escalation, all the way to completion
Enabling the planning and optimization of key activities, ultimately targeting operational excellence.
FROM REACTIVE TO PROACTIVE
ProdOps identifies issues and enhancement opportunities and enables your team to move them to resolution, through collaboration on task assignments, verification, and tracking, up to final closure. It's an advanced application that offers a paradigm shift in well production management and surveillance, moving away from a complex view of interpreted data, to provide engineers with continuous and actionable insights. These valuable insights are based on data driven techniques, first principle models, and historical look back models.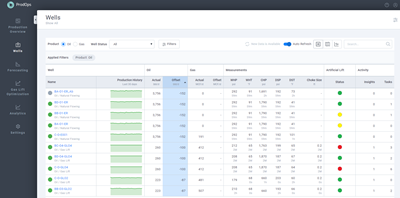 TUNE YOUR WELL PERFORMANCE BY ANALYZING MULTISEGMENTED DATA
With ProdOps, you can rank wells based on your KPIs to understand your overall asset performance and identify underperforming wells. Leverage the DELFI environment for instant access to all information relevant to each well, in context of the insight or well under review, to enhance your decision-making.