Access and integrate all your real-time and historical well data, enabling artificial intelligence to detect and predict the onset of drilling problems as they happen, to improve drilling performance and to provide insights for subsequent planning.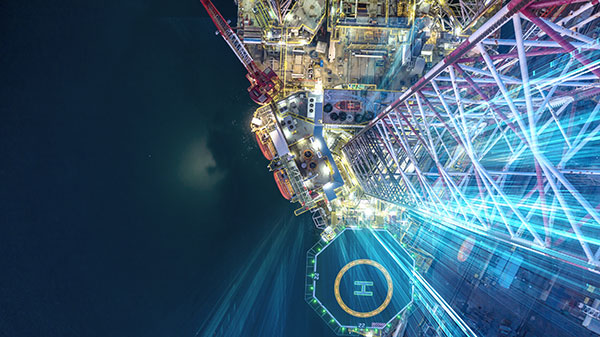 Real-time decision support
Automated intelligent surveillance with AI driven predictive analytics.
Use the latest cloud deployed technologies to drive performance and monitor your operations at scale

A collaborative environment where all users have access to their data and workflows in a single, common space

Smart alarms guide users to events ahead of time, where they can view the interpretation results in a simple format to make decisions at the right time to prevent NPT

Alarms are customizable to the user, making sure the right alarm alerts the right person at the right time

Access data anywhere on a tablet or mobile with alarms on the move
Data-driven learning—identify and deliver well performance and operational progress
Access curated data, enabling integration of past and present data to deliver systematic multi-well performance analysis and learnings through multiple workflows

Insights on the go—immediate, actionable insights for operational events

Insights from offset wells—multiwell risk and performance analysis

Data driven modelling—automatically identify correlations and trends and build predictive models
Learn from the past to improve the present
Every offset well that has been drilled before is analyzed to see how the best outcomes were achieved. The learning never stops, so every well drilled is better than the last. Improvements continue, well after well.
The integration of offset well data enables workflows to run historical analysis, perform risk management, conduct probabilistic analysis, highlight best composite time, improve operational forecasting, and automatically generate the sequence of operational activities based on the most effective offset wells.