Microsoft Chairman and CEO, Satya Nadella, and Olivier Le Peuch, CEO, Schlumberger, spoke during a fireside chat session, in front of a 1,250-strong crowd at the Schlumberger Digital Forum 2022 today. On the agenda was everything from helping industries achieve their sustainability targets, to the future of digital technology for energy.
Later, Rajeev Sonthalia, president, Digital & Integration, brought the Digital Forum theme 'Connecting for a New Future' to life in a rousing speech from the main auditorium. Rajeev offered his meaning of the term 'connectedness', with powerful customer examples that show how a future where everything is connected would benefit us all.
Big Launch: Schlumberger Enterprise Data Solution for Subsurface Powered by Microsoft Energy Data Services
As part of the Digital Forum, Schlumberger today announced the commercial release of the Schlumberger Enterprise Data Solution, which is powered by Microsoft Energy Data Services. Developed to deliver the most comprehensive capabilities for subsurface data—in alignment with the emerging requirements of the OSDU™ Technical Standard, a new open industry standard for energy data—the Enterprise Data Solution makes data accessible on an unprecedented scale for the global energy industry.
This technology enables customers to integrate subsurface data with technologies and workflows from multiple vendors. It is a single, open and interoperable platform with embedded artificial intelligence (AI) and powerful data management tools, which support and accelerate scalable, data-driven decision making at all levels of the organization.
Connecting for a New Future—Rajeev Sonthalia, President, Digital & Integration
With mind-boggling facts expressing how internet speeds have accelerated since the mid-90s, Rajeev's keynote took us from the first baby steps of the internet to a speeding rocket breaking the Earth's gravitational pull and 7.5 billion videos viewed on TikTok in a matter of minutes. His point? How major leaps in global connectivity and digital technologies have completely changed the way we work and live.
Taking a more serious tone, Rajeev explained the vital role that digital and connectedness will play if we are to traverse the challenges to the global economy face and strive towards a sustainable future.
He talked about the digital energy company of the future, not as a far-flung vision, but as a fact—with representatives in the room today. Rajeev explained that the digital energy company of the future uses technology to reduce risk, shorten cycle times, and increase productivity and efficiency, to lower cost and carbon intensity.
Finally, we heard how the energy 'orchestra' begins to play when workflows and are connected in a single digital representation of an asset. And this is not a faraway dream, this is happening today.
We are already Connecting for a New Future.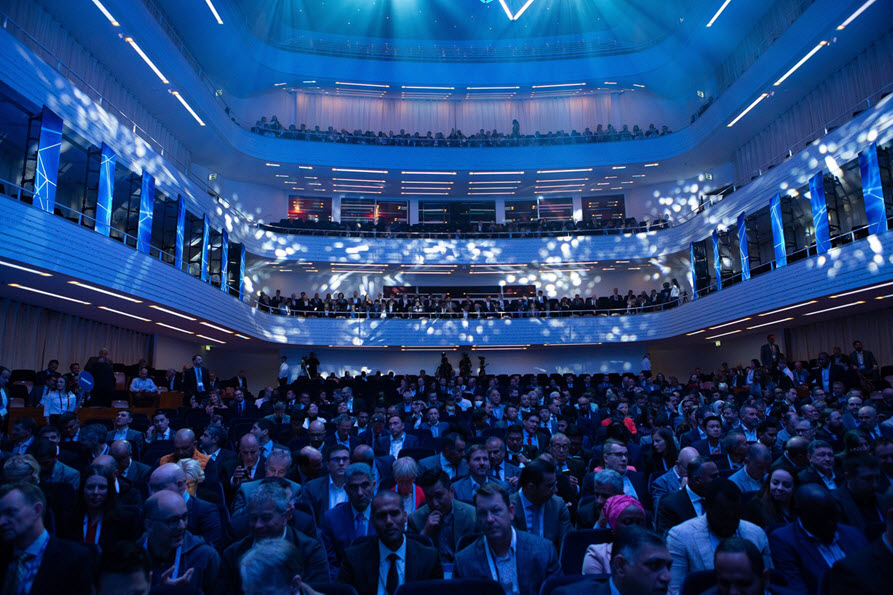 Major New Partnership Announced During 'Accelerating Value at Scale' Panel Discussion
Speakers
Øyvind Eriksen, President and CEO, Aker ASA
Blake Moret, Chairman and CEO, Rockwell Automation
Rajeev Sonthalia, president, Digital & Integration, Schlumberger
This morning, a panel discussion between experts in automation, domain technology, and data, that concluded by panelists agreeing that culture change, re-skilling, and training people are the vital aspects of accelerating the value of digital at scale, also featured a surprise parentship announcement.
We learned that Schlumberger, Sensia (a joint venture between Schlumberger and Rockwell Automation), and Cognite (an Aker company) will form a new partnership to make data accessible from 'source to insight' across the production value chain, enabling rapid digital solution development, autonomous operations, and huge efficiency increases.
Schlumberger Engages ISVs with Digital Platform Partner Program Launch
Schlumberger launched its Digital Platform Partner Program at the Digital Forum today. Independent software vendors (ISV) will leverage the openness and extensibility of our digital platform to build new applications and software and offer them to the global market. This means Schlumberger customers will access a broader range of interoperable AI and digital solutions, enabling data-driven decision making across the energy value chain and rapidly accelerating the time to value from digital transformation, unlocking innovation at global scale.
At launch, nine ISVs are already offering software solutions to Schlumberger customers and the partner program framework is designed to enable rapid onboarding for accelerated growth.