Olivier Le Peuch kicked off a packed first day this morning at the SIS Global Forum, his first as chief executive officer of Schlumberger. He presented a bold vision for a better, cleaner, more sustainable industry future – based on openness and new levels of collaboration.
A key first proof point for the value of ambitious cross-industry co-creation is the first iteration of a new data platform for E&P: the evolved Open Subsurface Data Universe to which Schlumberger has donated its DELFI data ecosystem.
An Industry Reimagined – Olivier Le Peuch
"Data is the lifeblood of our industry. It permeates everything we do."
Olivier Le Peuch opened this morning's plenary session, putting performance at the heart of his vision of a radically different E&P industry: "Performance matters!"
But the future, he continued, is too complex, the task too big for anyone to go it alone. Schlumberger's role and mission from here is to become the performance partner of choice, working together to revolutionize this industry.
Delivering high performance sustainably requires deeper collaboration and new partnerships - to make real the promises of digital transformation, to make digital production the norm.
This is not happening in some distant future. It is happening now.
1.75 Million Person Hours Later: A Data Foundation for the Industry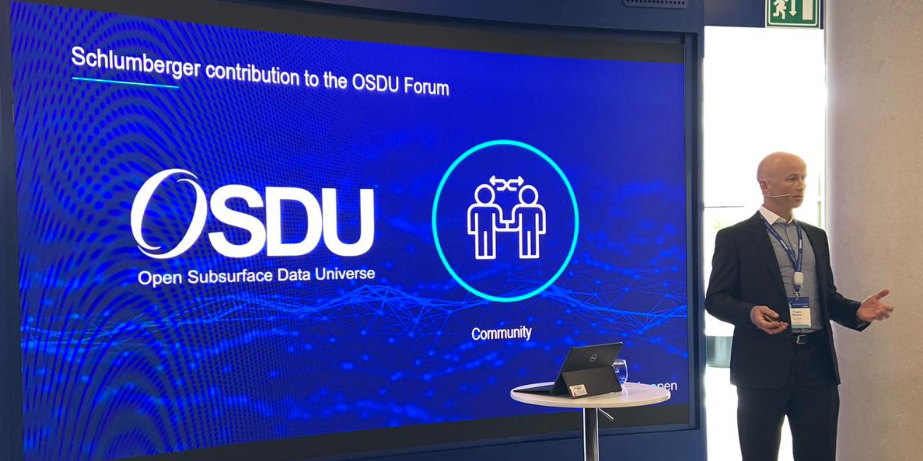 "The Open Source Data Universe, a unique cross-industry collaboration, will harness our collective knowledge for the benefit of all."
In August this year, Schlumberger announced that it would donate the data ecosystem developed for the DELFI environment (an investment of 200 person years) to The Open Group, the industry forum working on a common data platform for E&P. Today, the first results of this unique collaboration were presented: an open data foundation that will accelerate the adoption of advanced digital technologies in the oil & gas industry.
Read more here.
Chevron, Microsoft and Schlumberger Join Forces in Industry First
"Never before has our industry seen a collaboration of this kind, and of this scale."
Earlier today, Schlumberger announced a memorandum of understanding for a unique three-way collaboration between Chevron, Microsoft, and Schlumberger to accelerate creation of innovative petrotechnical and digital technologies.
These global organizations will work together on the full-scale delivery of native applications in the DELFI* cognitive E&P environment, in a customer context, hosted in Microsoft Azure.
The parties will ensure the developments meet the latest standards in term of security, performance, release management, and is compliant with the Open Subsurface Data Universe Data Platform. Building this common foundation, will amplify the capabilities of Chevron end users.
An industry first, the initiative paves the way for a new era of deeper, closer collaboration.
Read more here.
In Conversation with Microsoft's Scott Guthrie
"Across industries, the future lies in open, secure, healthy ecosystems centered around data."
Microsoft's Scott Guthrie joined Schlumberger's Ashok Belani on the plenary stage to discuss the big tech shifts on the horizon, how they may impact the E&P industry and how our business models must evolve to allow faster scale-up of technology deployments and stronger partnerships within and outside the industry.
Scott highlighted the constantly expanding possibilities of the cloud to spin up capacity ad hoc. This elasticity allows people to think about problems differently. Putting a number on this cloud expansion, he said Microsoft is adding 1 exabyte of capacity per month. Ashok's question on behalf of the audience: What comes after exabyte? Scott: Zettabyte!
Commenting on security challenges in oil & gas, Scott said cybersecurity is paramount for innovation and has to be a collective effort. Microsoft is helping tackle security threats in three ways: 1. by taking on some of the operational security work and making it part of their service; 2. by sharing security signals in an open way; 3. by working with key partners to help analyze threat data.
The Big Launch: The Next Generation of DELFI-Native Solutions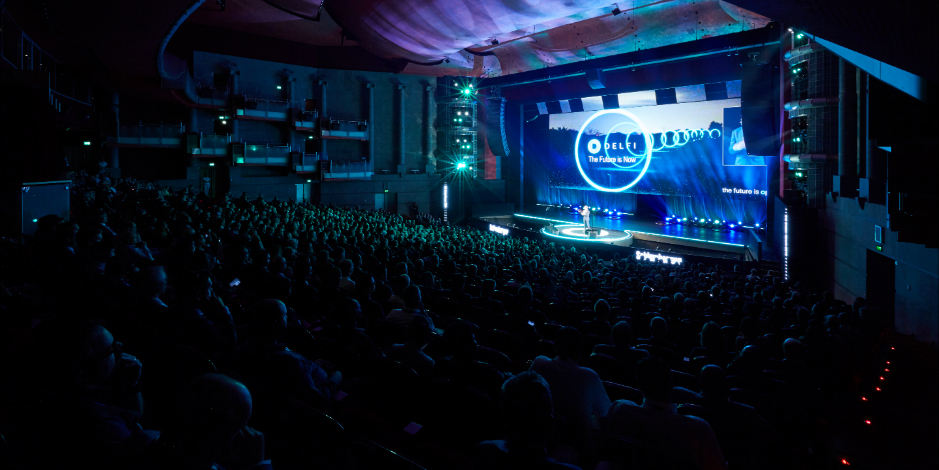 "With DrillOps, FDPlan, and ProdOps our customers can take a major step forward in realizing the business value promised by digital transformation."
Following the launch of the DELFI environment and its first cloud-native solution, DrillPlan, in 2017, Ashok Belani today unveiled the next suite of powerful applications built in the cloud, for the cloud: DrillOps, FDPlan and ProdOps.
The three solutions make real the promises of digital transformation in E&P - by drastically expanding capabilities in exploration, drilling operations, field development planning and production operations.
Read more: