Explore how working together for mutual value can help us thrive together in a continually changing landscape.
Join us to experience our digital technologies live at the Living Digital Showroom booth at the Schlumberger Online Conference.
Plenary sessions are available on-demand starting at 6 a.m. GMT Tuesday, 27 October– Friday, 6 November 2020.
Don't miss the digital leadership panel session featuring customers and partners: Joining Digital Leaders Across Industry Verticals to Expand Performance Boundaries.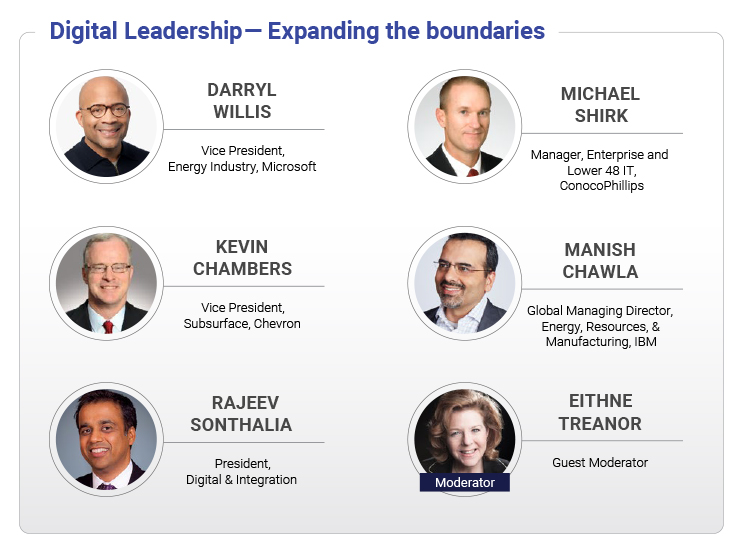 Themed presentations and live Q&A from October 27-30, 2020.
On-demand content runs until November 6, 2020.
Digital Transformation for an Efficient and Sustainable Industry
Tuesday, 27 October
Time (GMT)
Title
Calendar Download
8 a.m.
Supporting the Global Energy Transition with Digital Solutions
Add to Calendar
11 a.m.
Digital Transformation Acceleration for All: Schlumberger, IBM and, Red Hat Hybrid Cloud Collaboration for the Energy Industry
Add to Calendar
2 p.m.
Deployment: Transition to Cloud with Modern Data Management Capabilities
Add to Calendar
5 p.m.
DELFI Data Science AI, We're All In
Add to Calendar
8 p.m.
Digital Transformation in Action: Chevron's Journey to the DELFI Environment through collaboration with Schlumberger and Microsoft
Add to Calendar
The Evolution of Subsurface Characterization
Wednesday, 28 October
Time (GMT)
Title
Calendar Download
6 a.m.
Increase the Potential for Enterprise Data Discovery, Integration, and Value Extraction with GAIA
Add to Calendar
8 a.m.
Agile Field Development Planning with FDPlan
Add to Calendar
10 a.m.
Evergreen Exploration Evaluation and Planning: Equinor and Schlumberger Collaboration with ExplorePlan
Add to Calendar
12 p.m.
Accelerated Reservoir Modeling - Collapsing Cycle times for Optimizing Field Development Scenarios
Add to Calendar
2 p.m.
The Launch of the Petrotechnical Suite in the DELFI Environment on Microsoft Azure
Add to Calendar
4 p.m.
Tech Talks:


Realizing the Value of Ocean Bottom Nodes for Subsurface Characterization
Fast-Turnaround Time-Lapse Ocean Bottom Seismic Processing Enabled by Up-Down Deconvolution
Reduce Uncertainty in Complex Subsurface Scenarios with Effective Internal Multiple Attenuation

Add to Calendar
6 p.m.
Tech Talks:


Enhanced Full-Waveform Inversion in Earth Model Building
Least-Squares Migration: Handling Illumination in Complex Geological Settings

Add to Calendar
8 p.m.
Tech Talks:


eNode Land Seismic Solution: Paving the Path for Ultrahigh-Density Seismic Data in the Permian Basin
Setting New Standards for High-Density Seismic Acquisition in the Permian Basin

Add to Calendar
10 p.m.
Tech Talks:


Enhancing Unconventional Reservoir Characterization with Seismic Data
Increase Your Success in Unconventional Reservoirs with Seismic Engineering

Add to Calendar
12 a.m.
Accelerating Seismic Processing
Add to Calendar
Delivering a New Era in Drilling and Well Construction
Thursday, 29 October
Time (GMT)
Title
Calendar Download
8 a.m.
How Tripping Connections Improvements Lead to Months of Savings
Add to Calendar
11 a.m.
Consistency and Efficiency Gains with DrillOps Automate
Add to Calendar
2 p.m.
Well Integrity Management Solution Built on Wellbarrier Solution
Add to Calendar
5 p.m.
Collaborative Well Planning with DrillPlan
Add to Calendar
8 p.m.
Driving Drilling Performance through Remote Decision Support
Add to Calendar
Next Generation Production Operations: Integrating Edge, Cloud and, Enterprise Solutions
Friday, 30 October
Time (GMT)
Title
Calendar Download
8 a.m.
Multiphase Flow Simulation to Design, Operate and Optimize your Asset with OLGA and PIPESIM Simulators
Add to Calendar
11 a.m.
Right-sizing Field Production to Meet Demand with PIPESIM Simulator
Add to Calendar
2 p.m.
Tuning Production Operations with the ProdOps Solution
Add to Calendar
5 p.m.
Advanced Edge Analytics and Automated Control Using Agora and Sensia: Ecuador Case Study
Add to Calendar
8 p.m.
Delivering Optimized Facility Planning and Operations with Symmetry: DCP Midstream Case Study
Add to Calendar
For more information, visit the online conference website.