The high-caliber plenary program continued this morning for the second day of the SIS Global Forum 2019, with E&P leaders from ADNOC, ExxonMobil and Equinor taking the stage alongside Nikesh Arora from Palo Alto Networks and Blake Moret from Rockwell Automation.
The afternoon saw the launch of the Ora intelligent wireline formation testing platform, followed by domain-specific leadership sessions and a second day of rich technical tracks.
Automation: The Missing Link – Blake Moret, Rockwell Automation
"Automation exists in the oil and gas industry. But the industry is not automated."
Blake Moret, CEO of Rockwell Automation, talked about the key role automation can and must play in the digital transformation of the oil & gas industry. He cited the millions of automation systems running in the industry today, producing data that remains underused and fails to translate into action in the field.
Here, Blake said, automation can close a loop, not just by collecting more of the right data from legacy equipment and speeding up its analysis, but by enabling action. It's the missing link in the industry's digital transformation strategies.
Turning the Lights on in the Subsurface - Anders Opedal, Equinor
"The challenge is not what data to share, but defining the rules on how we share."
Anders Opedal, Executive Vice President, Technology, Projects and Drilling, this morning gave a fascinating glimpse of Equinor's vision of the Field of the Future, complete with drones that live underwater, storage facilities on the seabed and Subsurface Illumination – the new geosteering. Operations will be lighter, smaller, unmanned, automated, and operated remotely, achieving a reduction in capex of 30% and slashing operational costs by 50%.
Anders also talked about the leading role technology will have to play in further reducing Equinor's break even from non-sanctioned projects portfolio under $40 and achieving low carbon production. To increase the speed of innovation, the company has invested heavily in its digital academy and takes a leadership role in sharing data by making full data sets available to the industry, for example to training algorithms.
Technology enables growth - Liam Mallon, ExxonMobil
"We are still partnering like we did 40 years ago. Technology enables us to collaborate in a different way."
In his plenary presentation, ExxonMobil's Liam Mallon talked about the Dual Challenge - meeting the world's energy demands, reliably and affordably, while addressing the risks of climate change. These two goals, he said, are not mutually exclusive, but significant advances in technology are needed to help reach them.
Referencing ExxonMobil's work with Schlumberger on the transformation of well construction, Liam stressed the importance of transitioning to a different way of partnering to speed up the adoption of technology and achieve ambitious Permian production goals while reducing flaring, methane emissions, and water use.
The Future is Here – Trygve Randen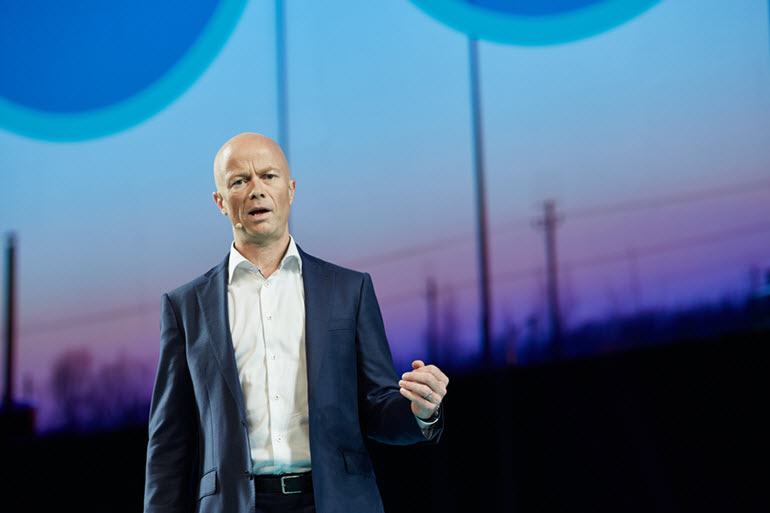 "Transformation will not stop, or even slow down. It will accelerate."
Digital tools allow us to reimagine E&P workflows without the silos. This morning, SIS President Trygve Randen presented delegates with a powerful panoramic view of what that digitally reimagined world looks like. In his demo, all DELFI solutions currently available came out in force to show what's possible today through orchestration and integration.
Key partners from the OSDU, TIBCO and Woodside contributed with takes on their collaborations with SIS. The common theme, in the words of Johan Krebbers: "Speed, speed, speed and more speed!" This was brought to life by Shaun Gregory, whose team at Woodside have used rapid tech development and deployment in DELFI to take an 18-month workflow down to 8 days.

Meet Ora: Wireline Hardware, Digitally Reinvented
This afternoon, Schlumberger introduced the Ora intelligent wireline formation testing platform, which delivers a step-change in reservoir evaluation by integrating new digital hardware with intelligent planning, advanced operations control and contextual insights to enable real-time critical business decisions.
Read more at www.slb.com/Ora