The Birth of the ExplorePlan Accelerated Exploration Planning Solution
Having recently launched the ExplorePlan accelerated planning solution to the market as a new cloud-native planning solution in the DELFI cognitive E&P environment designed for the exploration domain, we wanted to take the opportunity in this blog to explain how this solution was conceptualized and expose some of the process that has got the solution to where it is today.
In September 2017, Schlumberger hosted its bi-annual SIS Global Forum in Paris and launched the DELFI environment. At the forum, the first concepts for the FDPlan agile field development planning solution, were exposed to customers and this led many in the exploration domain to ask whether we were also working on a similar solution for exploration.
Also at the Forum, an executive exploration panel discussion was organized where key players in the exploration business explained how they saw the future of exploration in context of digitalization and the DELFI environment. Some of the points that were mentioned were around the (1) need to have more focus on the right opportunities (not just barrels but good barrels), (2) need for integration with field development in early stage exploration, (3) improve access to all available data and improve on integration, remove data bottlenecks and (4) parallelize the process rather than doing things sequentially.
Shortly after the 2017 Forum, we started an engagement with Equinor to identify more specific pain-points and opportunities in its exploration process. One of the main visions expressed by Equinor at that time was the (1) desire to compress the timeline required to mature opportunities from early lead identification to drill-ready prospects and (2) increase the number of opportunities entering the exploration funnel (Figure 1).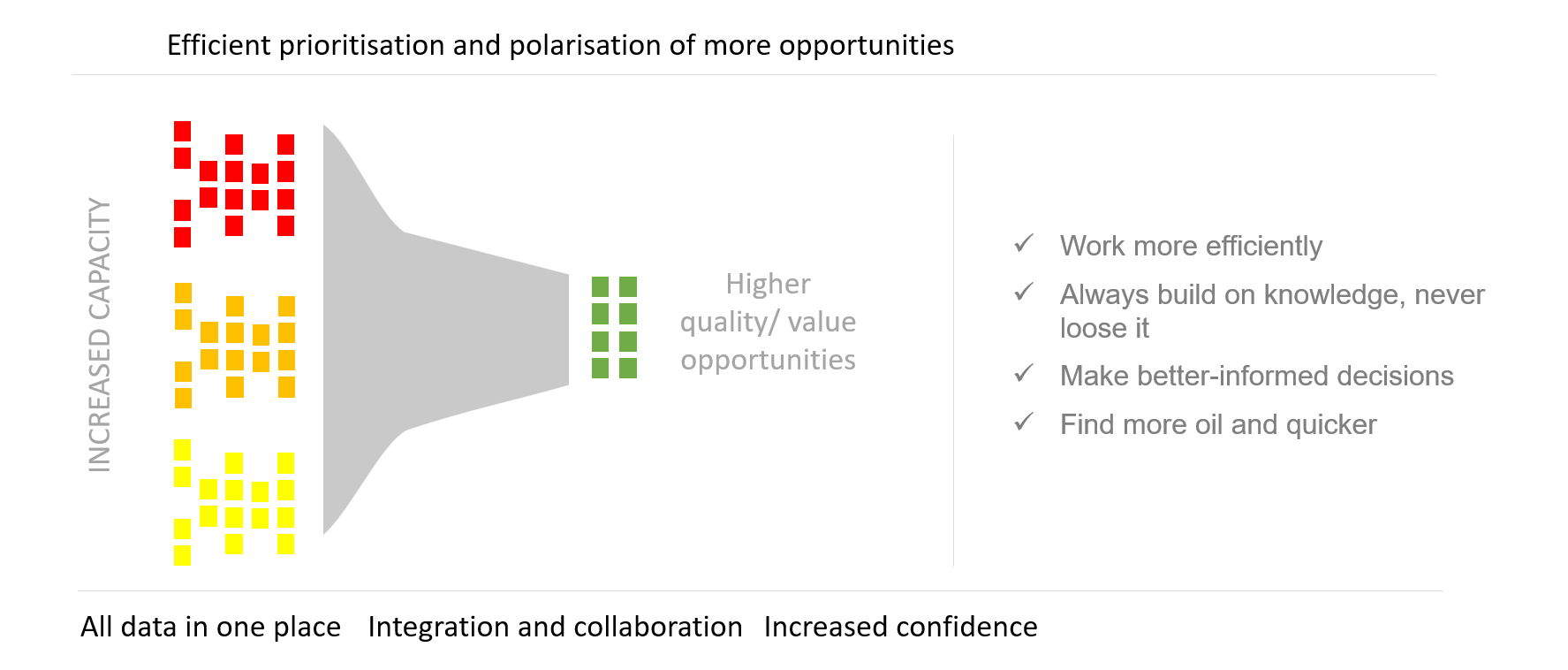 With the input from this first engagement with Equinor and conversations with other customers, we started conceptualizing some of the key elements we wanted to include in the ExplorePlan solution. These included: (1) a place to discover data in geospatial context, (2) a way to capture and store knowledge gathered while working up an exploration opportunity (3) improved ways to visualize and analyze the exploration portfolio and (4) project orchestration tied to the business need and available subsurface information. We also started drafting some initial mock-ups on these elements (Figure 2). With these initial concepts and plans, we were able to convince management of allocating engineering budget to kick-off the project.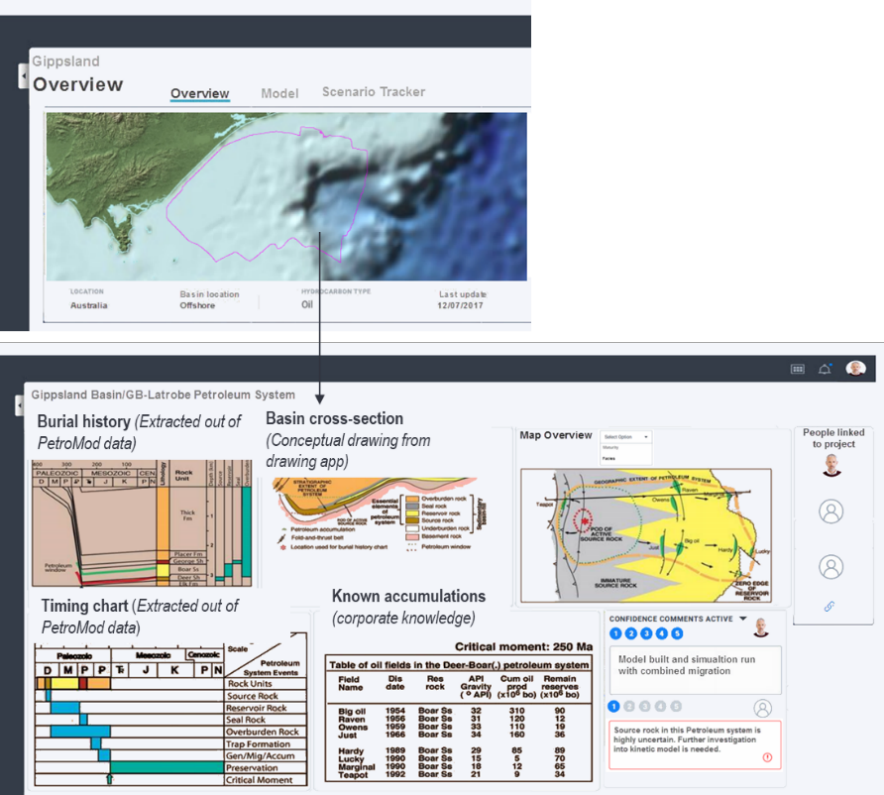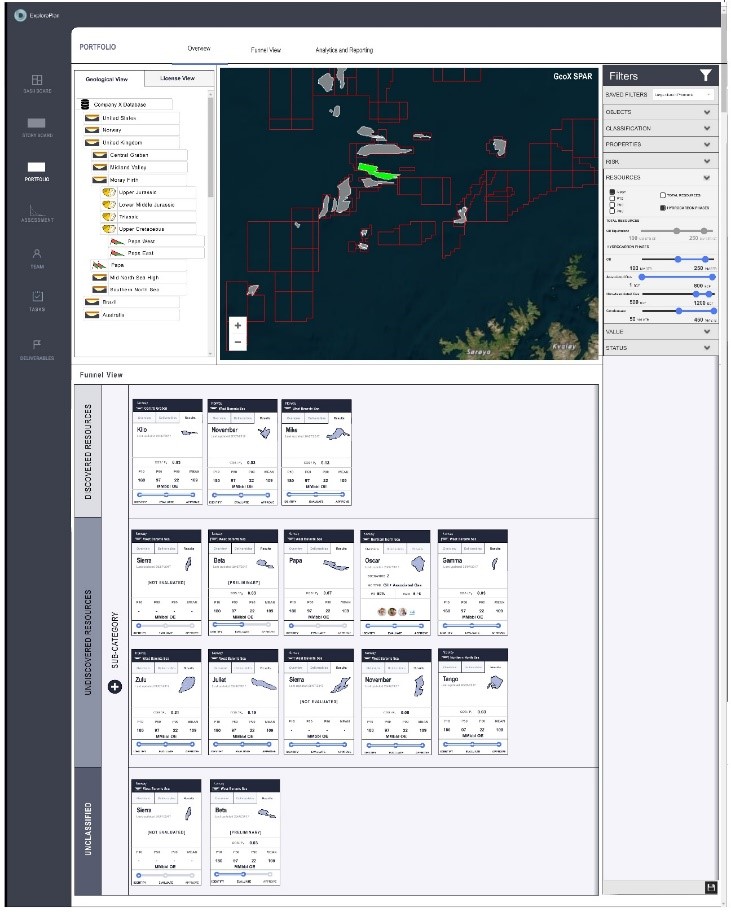 Around early 2018, the software engineering teams were established in the Aachen Technology Center and Norwegian Technology Center.
We also started an engagement with UX user experience (UX) consultants to do more detailed user research and get validation of our early visions. These consultants interviewed around 20 users active in the exploration domain in various roles and with various types of companies. They also came up with a first integrated concept of the solution and how the various personas they had interviewed would interact with the tool (Figure 3).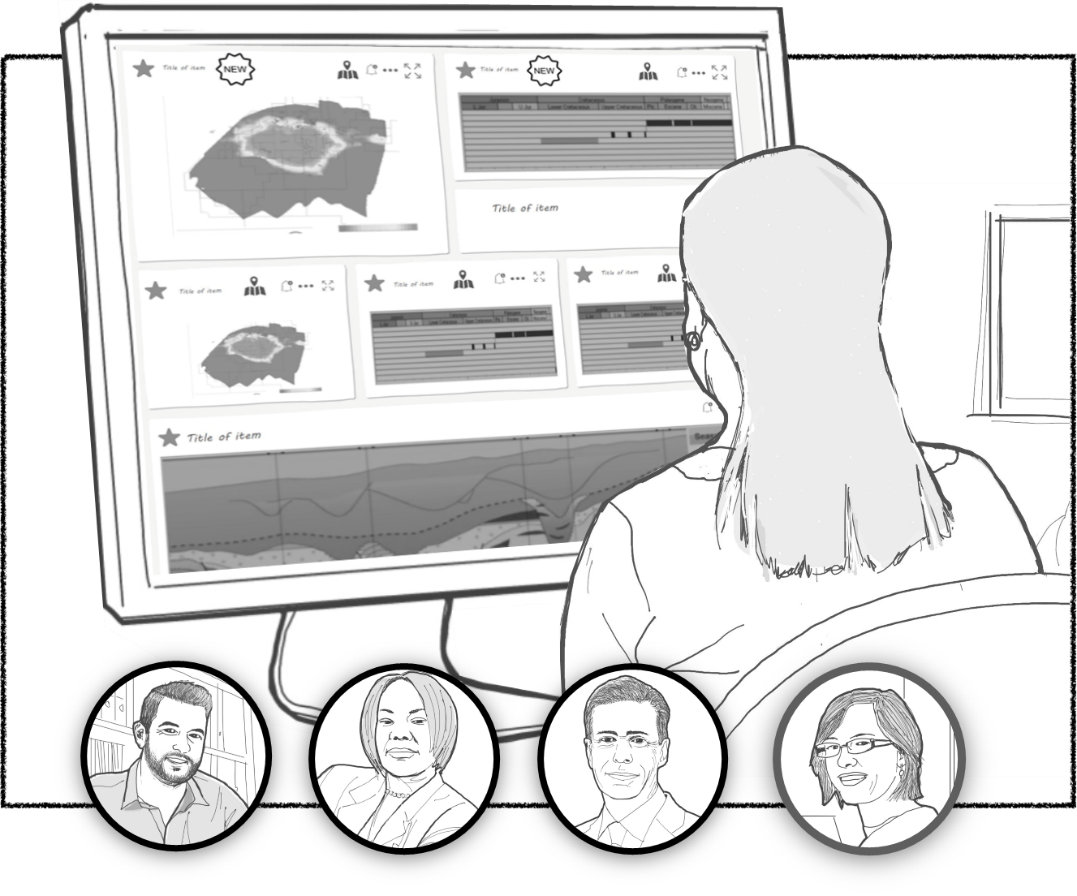 Meanwhile, the engineering teams started developing the first prototypes of what would later become the ExplorePlan solution (Figure 4).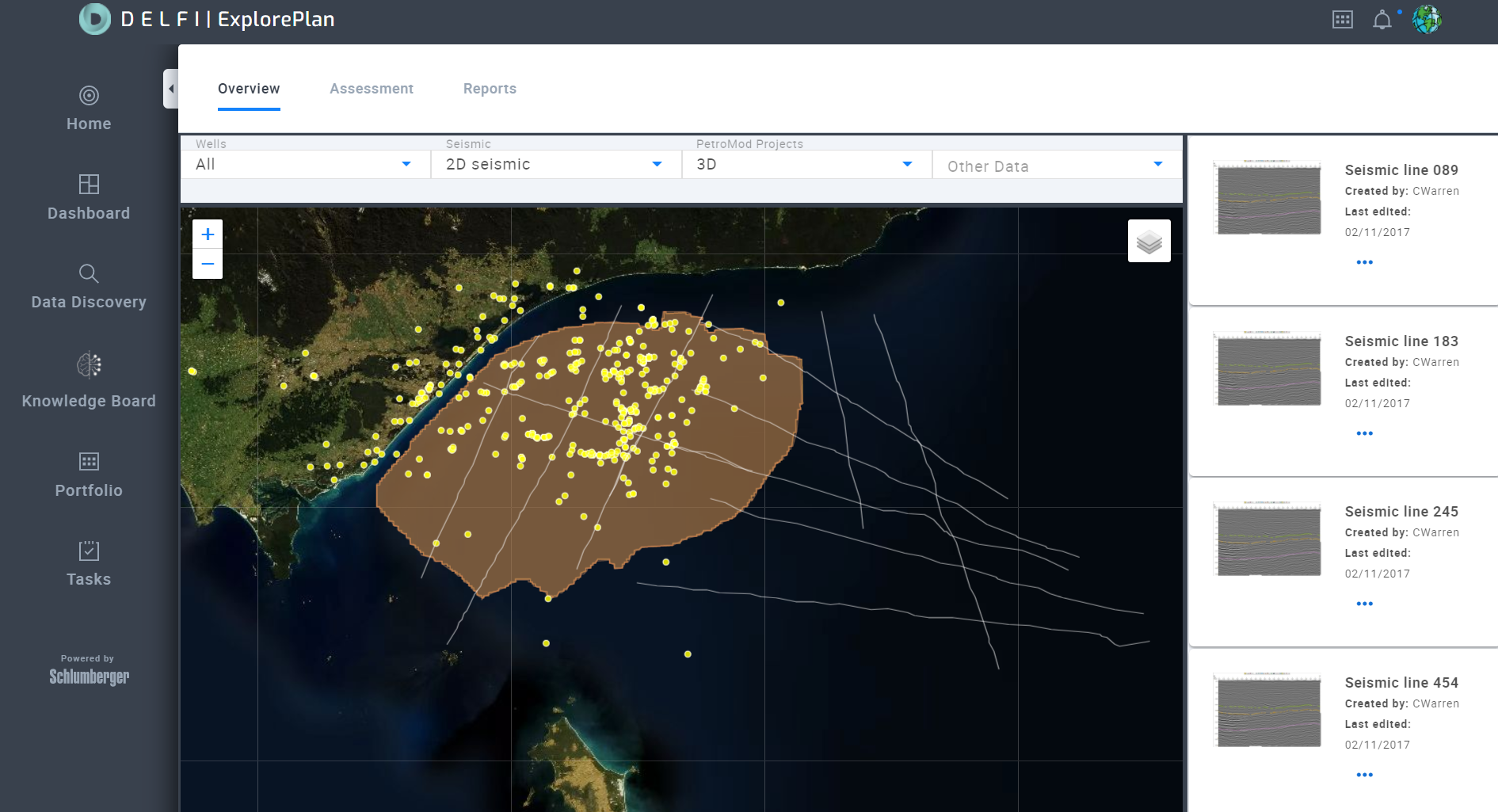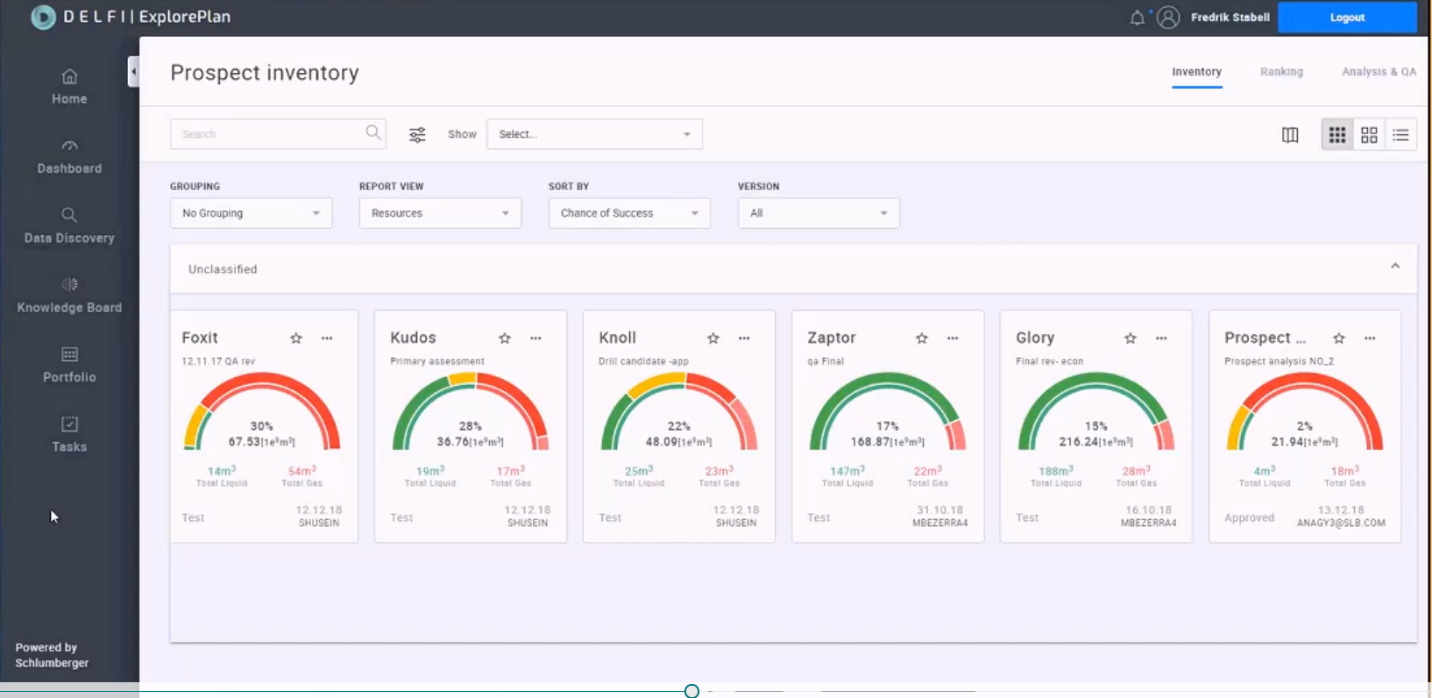 In May 2018, the DIGEXP project with Equinor was formally kicked off as a true digital exploration collaboration with the aim of enabling a step change in exploration performance. The way we started working together in this project was a new and unique way of testing early concepts and technologies, which would have the potential to transform more classical workflows into digitally augmented ones. It enabled a "fail fast" and "scale quickly" approach; where promising solutions are promoted to production after validation while sub-optimal ones are discarded early on. The focus for Equinor was to create a multi-dimensional space where prospects, at different level of maturity, could be compared with each other in a live manner, raising visibility as well as the understanding of the exploration portfolio. Shutting down non-promising prospects early is as valuable as finding viable ones and can save millions of dollars in exploration cost.
Throughout 2018, we also started working together with a second stakeholder, ExxonMobil, who gave us their views and perspectives as well. ExxonMobil is recognized for having well established knowledge management frameworks. Leveraging these mechanisms into a digital solution allows cross-pollination of new ideas and hypothesis, unleashing lateral thinking to bring huge value and the possibility to discover more opportunities.
Due to the continuous feedback and validation by these two customers, in addition to many other customer engagements, we were able to mature the ExplorePlan solution prototypes into a fully integrated solution. It leverages components of the DELFI environment and the DELFI Petrotechnical Suite, to ultimately deliver a new digital solution; taking advantage of the subsurface characterization solutions combined with advanced digital technology and project management methodology.
The ExplorePlan solution allows exploration managers and team members to work efficiently together with defined roles and deliverables, and to share knowledge and data, resulting in higher quality decision making and increased efficiency in the expensive exploration business.
In September last year, at the SIS Global Forum 2019, we were able to launch the ExplorePlan solution pre-commercially in the plenary sessions and as a live demonstration to numerous customers in the exhibition space (Figure 5).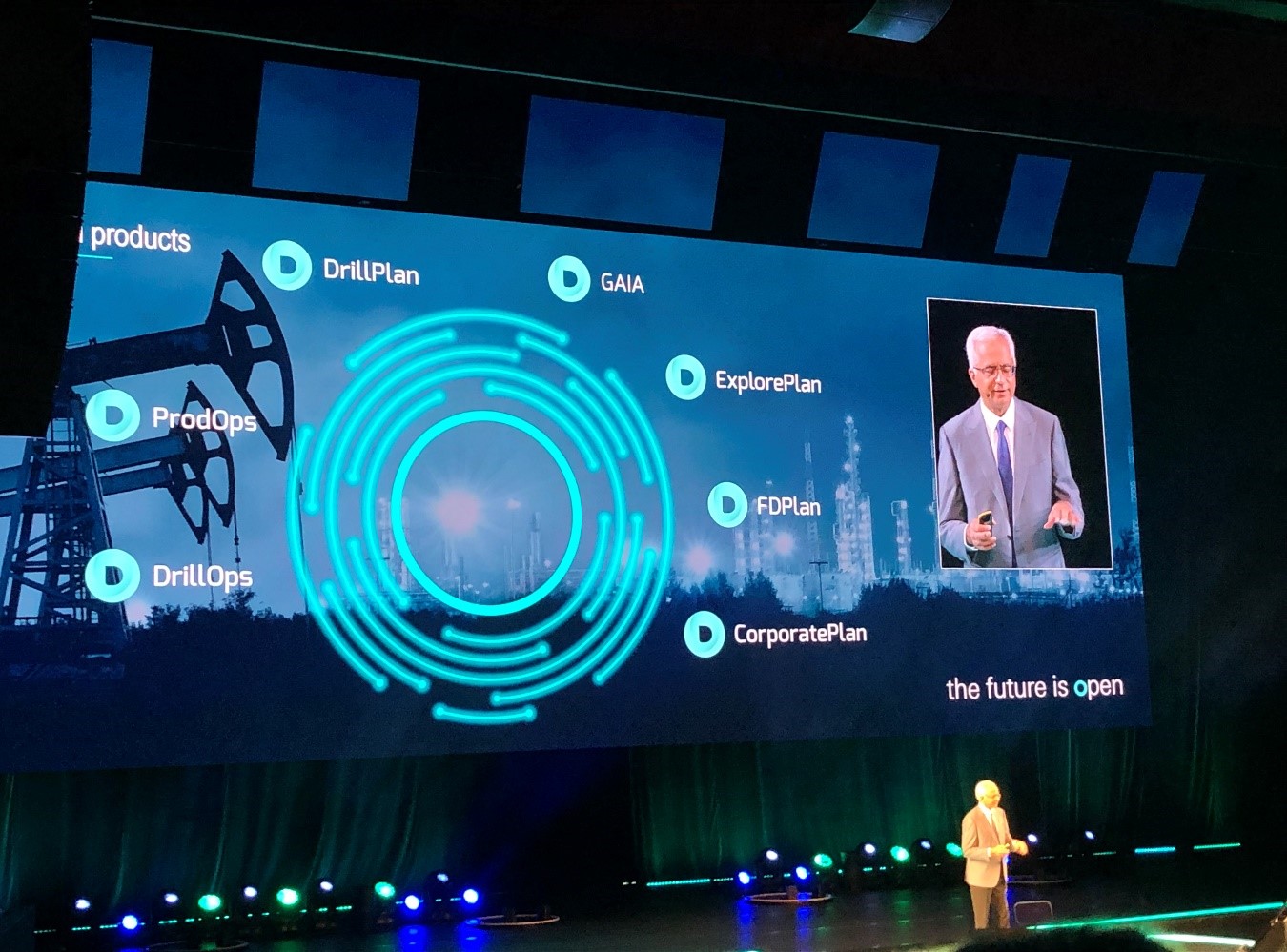 The enthusiasm at our booth and validation from key decision makers was simply overwhelming. Equinor and ExxonMobil were also proud to share their experiences of the collaboration with other customers during technical presentations.
Finally, the ExplorePlan solution was launched as a commercial product in June 2020 and was presented in a Living Digital Webinar (as an alternative to a real live launch, thanks to the COVID-19 pandemic). First contracts are being negotiated and signed as we speak.
We would like to thank Equinor and ExxonMobil for permission to publish this blog post and acknowledge the review by Adam Pugh (Equinor).
Authors information:
Sofie Nollet is currently Exploration Portfolio Manager, looking after all exploration-related software products in the Schlumberger Digital & Integration Division. She has a geologist degree and has a passion for the interactions between fluids and subsurface structures. She started her career in oil and gas at ExxonMobil's Upstream Research Company in 2006 and has been with Schlumberger since 2012 in various software product roles. In her spare time, she is quite busy keeping three active boys healthy and happy, but if there is time left, she squeezes in a run.
Claire Castagnac is ExplorePlan Product Champion looking after the Knowledge Board, Project and Data Discovery solutions in the ExplorePlan solution. She has a geological engineering degree, specialized in numerical geology. She started her career in 2006 as geostatistician for the French Geology Survey in France and joined Schlumberger in 2011. She started her career in Schlumberger as geologist in Venezuela, she moved in 2012 to the Aachen Technical Center in Germany to work as petroleum systems analyst for the Exploration Services team and in 2018 she joined the Exploration Portfolio team. She enjoyed family outdoor activities and spent most of her vacation time in her beloved French Pyrenean mountains.
Fredrik Stabell is Exploration Decision Support Product Champion that includes software products as GeoX exploration risk, resource, and value assessment software and the portfolio component of the ExplorePlan solution. He has a chemical engineering degree and did research for six years after this before starting in GeoKnowledge in 2009. In 2012 he joined Schlumberger where he has been part of the portfolio team with focus on software development of applications for exploration risk, resource and value assessment and portfolio evaluation workflows. He hopes to do more climbing and windsurfing going forward, though that probably depends on his kids' interest in joining him.