Symmetry 2020 Feature Highlights
Efficient and thorough safety design with Flaresim in Symmetry
HSE risks from flare operation can now be evaluated while designing or verifying the complete flare system. Users can verify that the system will protect the plant from overpressure and at the same time consider the effects on personnel and the public. This integrated workflow is the only one in the industry that verifies safety constraints for relief valves, piping and thermal radiation simultaneously across all scenarios. The flare system model is solved side by side with the model of the process equipment that it is protecting, facilitating safe and efficient data propagation.
Radiation isopleths

Noise levels at key locations

Temperature of exposed surfaces

Dispersion of emissions

Benefits of shielding

Assistance fluid for smokeless flare
Wide scale modelling eases the processes of data gathering and updating, so a single model can be used to ensure alignment with regulatory bodies and avoid penalties. For example, Symmetry offers centralized tracking of emissions from a variety of sources: flaring, venting, tank storage and transportation.
Repetitive calculations, the need to create different models and use of different software tools have been eliminated to save users time and improve results accuracy. Now you can launch the complete workflow from Symmetry 2020.
Keep your network alive, accurate and consistent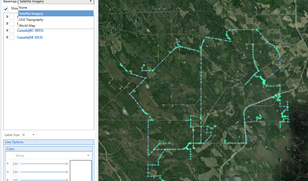 Take advantage of the new network designer tool that provides an element of automation to building pipelines. The Network Designer Mode within Symmetry will quickly allow you to create your pipelines from different sources, utilize GIS capabilities, and keep your network up to date and alive.
Symmetry platform aims for creating an environment with seamless integration to reach the most accurate results, by enabling the use of a network designer tool to build and update your system topology and add elevations with the use of ESRI and other technologies.
The innovative approach will give clear visibility when designing pipelines of any environmental concerns, pre-existing infrastructure, and even other pipelines that make it challenging to find a clear path. Ultimately, pipeline design with GIS is safer, more accurate and faster than traditional methods. When pipeline design is done without GIS, a significant amount of data must be compiled manually, and the entirety of the project may potentially be disrupted.
GIS awareness allows for a much better understanding of the actual field environment, which enables smarter decision making because it can expose potentially unforseen physical obstacles or other considerations.
The Network Designer has tools to allow the user to rapidly modify the topographical elevation profile of a pipe to honor such considerations such as road and river bores.
Users can construct networks interactively on the GIS canvas and quickly populate pipeline elevation profiles using a web service for both onshore and offshore environments. Large networks can also be constructed very quickly by importing and converting existing Shapefiles into pipeline systems, thereby eliminating the need to manually trace pipe profiles.
With the new Network Designer Mode, existing Unintended and potentially invisible pipe disconnects imported with shapefiles can be rapidly identified and connected with the click of a button, keeping your project up to date with important information.
Managing facilities with greater speed and more efficiency
Symmetry new release is focused on improving speed and efficiency in all major workflows available within the platform. The aim is to add seamless integration across the full spectrum to minimize the time users spend preparing information, creating models, running simulation and validating results.
Symmetry 2020 helps users add value to their models with tools that facilitate both adding fidelity and performing wide-scale analysis.
Reduce capital cost of equipment and prevent plant upsets with the new slug catcher sizing utility. Users are able to size this key equipment quickly without compromising accuracy as the built-in sizing runs automatically in dynamics.

Save time and effort when setting up an LNG mixed refrigerant optimization, as the Pinch Utility calculates key values and can even track multiple pinch points.

All refinery reactors can solve with molecular reduced order models (m-ROM), allowing for optimization of refinery operation with rigorous, fast-solving models.

Higher fidelity on reciprocating compressors allows for more accurate studies when evaluating or optimizing energy consumption.

Blowdown valve and orifice sizing tools have been added with dynamics runs built in.

Evaluate alternative operation modes efficiently with the ability to activate or deactivate sections of a plant.
Improve accuracy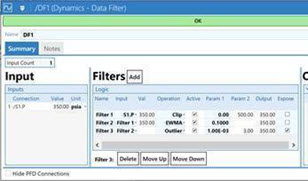 Eliminate noise within your online analysis utilizing the new general data filtration capability.
Mitigate operational risks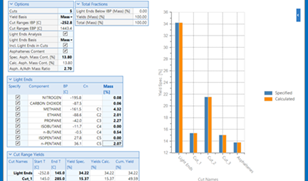 Take advantage of the unique innovation in Symmetry thermodynamics engine to predict asphaltene precipitation in live oil.
Focus on important tasks
Leverage a selection of user experienced enhancements that will minimize the time required to perform certain tasks.