Well Portfolio Optimization: Reduce cost and time by over 85%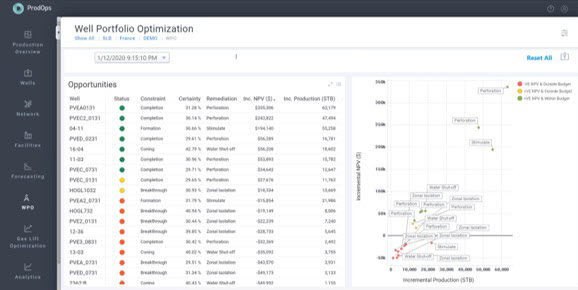 The challenge
Asset teams are tasked with proposing well production enhancement opportunities on a regular basis. While this process is crucial to sustaining asset production, the identification of potential workover candidates is limited by budgetary constraints and is historically a lengthy, manual process, which consumes several weeks of engineers' time in every iteration. Moreover, best practices and lessons learned from past interventions are rarely captured, this prevents systematic improvement of the candidate selection methodology and choice of intervention.
The solution
Using artificial intelligence (AI) integrated with a production operations solution, a standardized and automated approach to rapidly screen and rank large well count assets (hundreds or thousands of wells) in a fraction of the time and repeatably, was proposed. The solution enabled the proactive management of existing wells, by keeping the production enhancement opportunity pipeline full and expediting potential candidates through the opportunity maturation process (OMP) in an integrated and collaborative framework. Engineers confirmed and validated the system-generated opportunities before escalating them for approval.
The results
The application of the solution led to workover and intervention candidate evaluations being routinely performed on a weekly basis (compared to the bi-yearly approval reviews previously held) across almost 200 well completions. In its early evaluation, the solution, has provided 89% time savings in both the identification and review of intervention candidates. Additionally, 88% cost savings have resulted from the elimination of manual work.